The Re3® Advanced Pellet Delivery System for Men & Women is a novel, patented medical device created by a physician with over 20 years experience in Bio-Identical hormone replacement therapy (BHRT) to improve the pellet insertion process – making it easier, safer, and more reliable.
The current procedure most widely used for pellet insertion requires the healthcare provider to clean, autoclave, and reuse the instruments needed for pellet insertion. This method can be cumbersome and expensive and relies on non-standardized procedures at each provider. There are also plastic, single-use kits for pellet insertion, which are not widely used due to poor quality instruments.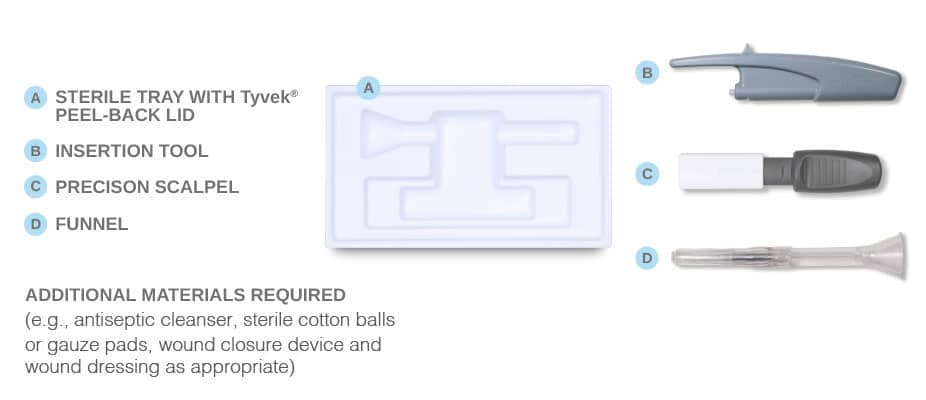 Features of Our Rapid Hormone Treatment Device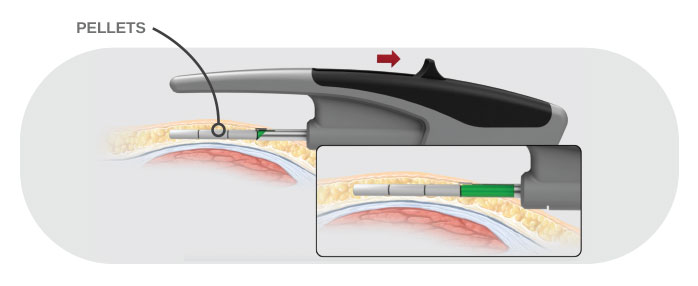 Ergonomically designed INSERTION TOOL
with NEEDLE GUIDE ensures pellets are always delivered in target subcutaneous tissue plane.
INSERTION TOOL is designed to deposit
pellets in linear retrograde fashion which:
Reduces amount of anesthesia required
Reduces risk of pellets bunching or overlapping
Reduces patient bruising and discomfort
Precision SCALPEL ensures that incision is precise width and depth to facilitate insertion procedure. SCALPEL minimizes risk of extrusion (i.e., this incision is too shallow) or muscle pain (too deep).
Convenient FUNNEL helps prevent loss of pellets during loading process – common issue with current methods. FUNNEL technology secures pellets for safe and efficient use providing an aseptic pellet transfer.
Features + Benefits
The Re3® Advanced Pellet Delivery System provides the clinician with several desirable features:
Feature
Benefit
Insertion Tool

Facilitates effortless preparation and insertion
Helps achieve better clinical outcomes
Promotes patient satisfaction
Easy to use for HCPs with all skill levels
Patented Technologies

Scalpel

Ensures proper depth and size
Increases operator confidence

The FUNNEL technology

Secures pellets for safe and efficient use
Promotes patient satisfaction

Sterile Tray with Tyvek® Peel

Infection rate can be decreased
The insertion procedure can be conducted efficiently in a minimal amount of time
Everything needed is available in the same kit to increase efficiency and to provide the confidence that all components have been rigorously tested
Using the Pellecome Re3® Advanced Pellet Delivery System